During the recent event "International Bus Expo" (IBE, Rimini 14-16 October 2020) and the annexed congress organized by ANAV there has been an opportunity for OpenMove to strongly reaffirm its corporate mission:
To provide people with the ability to move freely

To help transport services to be sustainable, both economically and environmentally
OpenMove was born as a software company specialized in smart mobility and over the years it has developed mobile ticketing apps, intermodal route calculation solutions, e-commerce for booking and payment of transport, passenger information and fleet management solutions, and real-time business intelligence systems. What are the contributors which have allowed OpenMove to deliver on all of these solutions?
Account Based Paradigm
Cloud services provisioning
Integration services via robust API development
ITS delivery from a MaaS perspective
Given these successes and accomplishments, we ask ourselves: where are the next opportunities and markets for our software solutions?
The trajectory is clear. Over the years, the smartphone has gradually absorbed many features that previously belonged to dedicated devices. Today our smartphone is not only our communication device, it is also our calculator, camera, credit card, and navigation tool. This trend is also occurring in other industrial sectors, which can exploit low-cost and increasingly powerful, robust and versatile off-the-shelf devices.
A significant example is SpaceX, which aboard the Falcon 9 (the spacecraft that brought the astronauts to the International Space Station) uses off-the-shelf hardware wherever possible – with skillful and state-of-the-art software solutions – in place of unnecessarily expensive military-derived equipment.
This makes us understand that nowadays, the real added value is not the hardware, but within the new generations of software.
In previous years, OpenMove has enriched OpenMove ACT – its own app dedicated to field personnel (inspectors, vendors and drivers) – with inspection with camera, boarding list, Bluetooth printer and POS, bus tracking with GPS and people counter.
In 2020, the time has come to recognize new opportunities and trends and to take appropriate steps to transcend these boundaries. Now our software successfully finds its place on two new hardware peripherals on the market:
All-in-one mobile device for sale and validation of travel tickets, based on Android platform, which integrates contactless POS reader, thermal printer and many other functions

On-board validator compatible with smart cards, digital and paper tickets with QR Code and barcode, EMV
OpenMove HORA is the new software that runs on board the latest generation validators.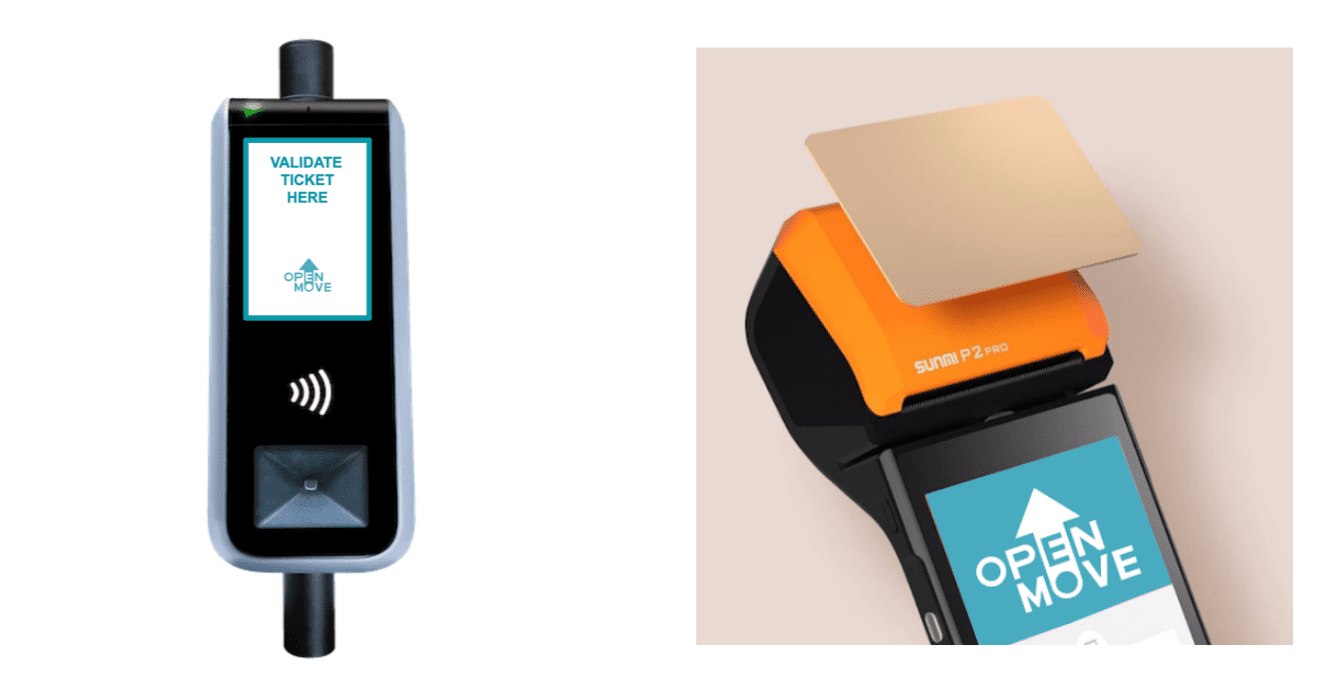 These are two very important steps for OpenMove in order to enrich its Automated Fare Collection system (AFC), which has been created and developed to make the most of the hardware available on the market with the aim of breaking down the entry barriers to transport, giving therefore freedom for travelers and increasing the sustainability of transport services.